PROM VENUE HIRE IN BERKSHIRE
Located in  Datchet between Windsor and Slough, and just off the M4 and M25, Ditton Manor can be YOUR perfect Prom Venue in Berkshire.
The wonderfully historic destination of Ditton Manor is deserving of being an AWESOME prom venue and party location for your school and if you're searching for a suitable PROM venue, we can help!
The end of year school PROM (short for promenade), might not be as well known here in the UK as it is in the USA, but after experiencing the hard work of a school year, a PROM gives the students a fantastic opportunity to unwind and celebrate at a well-deserved end of year extravaganza.
If you need to arrange a formal school prom and require a Prom Venue in Berkshire, Ditton Manor is here to help.
We'll assist with all the PROM arrangements leaving you free so you can concentrate on choosing your wonderful PROM Dresses and suits and start practising your best dance steps for the big evening.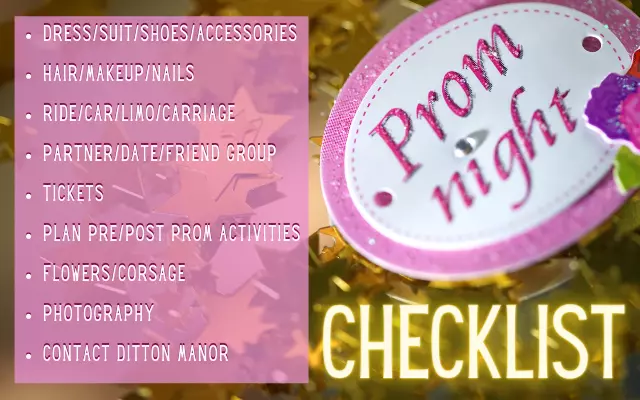 Being organised for your Prom is so important and without doubt, the school prom in the UK, is an institution that is here to stay. As the significance of the school Prom becomes more important in your school child's calendar, so too will Prom Hire Venues become more difficult to find so booking early is absolutely recommended.
What is a PROM in the UK?
Simply put, a school prom is a formal styled celebration to commemorate the important end of year school dates such as the completion of exams or the end of the school year.
Proms in the UK have increased in popularity for many schools these days and are no longer regarded as simple events with most requiring intense preparation and planning.
A secondary school prom often involves a huge party with elegant costumes, dinner and dancing and fancy cars. Some schools even plan proms for pupils on completion of primary school tuitions although are usually smaller events than a high school prom might be.
What size PROM VENUE is right for my School Prom?
The best way to decide on Prom venue size requirements (to avoid hiring a larger venue than required) is to get an early indication of provisional attendee numbers before booking a venue. Once you have those early provisional numbers then promptly send out Invitations and collate RSVP's to deduce the definite attendee numbers.